THE RESEARCH CENTRE ON INTELLIGENT TECHNOLOGIES OF SANTIAGO DE COMPOSTELA (CiTIUS)
CiTIUS, the Research Centre on Intelligent Technologies, is part of the Singular Research Centres Network of the Campus Life. Campus Life is the International Campus of Excellence of the University of Santiago de Compostela, recognized in 2009 by the Spanish Ministry of Education and Science.
CiTIUS hosts more than 100 researchers, including 31 senior researchers who have been selected by an external Scientific Advisory Board. CiTIUS research activity is organized into 8 scientific programmes: 1. Machine learning; 2. Advanced computing; 3. E-health; 4. Approximate processing; 5. Personal Robots; 6. Autonomous sensors; 7. Natural language technologies and 8. Artificial Vision.
In the last 4 years (2016-2019), CiTIUS attracted funding of over 10,5 M€, of which more than 2,7M€ are from projects in collaboration with the industry sector. In the same period, the Centre published over 150 articles in indexed journals (SCI-Scopus), and defended 38 PhD thesis. CiTIUS team is currently participating in 10 European projects, including:
NL4XAI (H2020-MSCA-ETN, Coordinated): Interactive Natural Language Technology for Explainable Artificial Intelligence (G.A. No. 860621, 2019-2023). Website: nl4xai.eu
MENELAOS_NT (H2020-MSCA-ETN): Multimodal Environmental Exploration Systems – Novel Technologies (G.A. No. 860370, 2020-2023). Website: www.menelaos-nt.eu
TRAFAIR (CEF-Telecom: Public Open Data): Understanding traffic flows to improve air quality (G.A. No., 2018-2020). Website: trafair.eu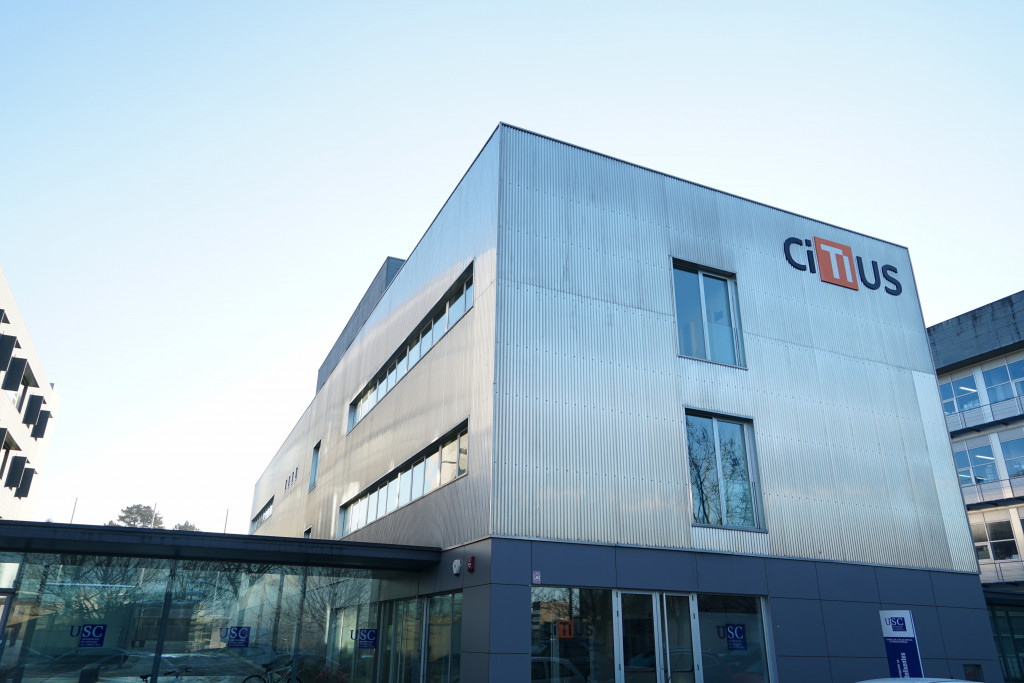 CiTIUS also transferred several software licenses in this period, 70% of them to international companies, and created 2 spin-offs, Situm and Imagames. CiTIUS collaborates with relevant companies such as Indra, Finsa, Everis, Babcock International, Johnson&Johnson or Mestrelab Research, among others.
CiTIUS research lines related to Artificial Intelligence
Machine learning – https://citius.usc.es/pc/aprendizaxe-automatico
CiTIUS research objectives in this area are the following:
Design and application of models or methods for classification, regression and optimization.
Symbolic learning (rules, decision trees…) and sub-symbolic (neural networks, support vector machines, deep learning, genetic programming…)
On-line continuous learning in multi-device systems
Data mining and text mining
Process mining
Analysis and interpretation of signals, image and videos
Natural Language Technologies – https://citius.usc.es/pc/tecnoloxias-da-linguaxe-natural
In the area of Natural Language Technologies (NLT), CiTIUS researchers do research on models and develop technologies for many NLP state of the art tasks, such as:
NLP for information extraction, language analysis, relation extraction, sentence similarity…
Information retrieval and search technologies
Semantic representation with ontologies
Big data to text systems: NLG from data
Intelligent data analytics for NLP: machine learning, data mining, imprecise knowledge and reasoning
High performance computing and big data technologies for NLP
Explainable Artificial Intelligence
Artificial vision – https://citius.usc.es/pc/vision-artificial-2018
CiTIUS research objectives in this area include:
Pattern recognition in images and videos.
New approaches for the segmentation of complex images.
Development of new visual attention computational models.
Biometric recognition based on incremental and continuous learning.
Detection and tracking of very small objects by means of deep learning techniques.
Processing of images obtained from RGB, multispectral and hyperspectral sensors (registration, classification, domain adaptation, changes detection …).
Robotics – https://citius.usc.es/pc/robots-persoais
The main research lines of this area are:
Development of algorithms to increase the adaptive capacity of robots, allowing them to learn from the user and from their own experience.
Training the robot for visual perception: development of artificial vision algorithms in order to enable the robot for Scene Recognition and Feature Identification, as it explores the field.
Indoor Mapping and positioning, through multi-sensory information.
Autonomy and advanced navigation in complicated, non-structured or predefined areas.
E-Health – https://citius.usc.es/pc/e-saude-2018
CiTIUS research in this area focuses on:
Prevention, through the design and automatisation of processes that stimulate the adoption of healthy life habits, adaptable to patient's conditions and routines;
Diagnosis, based on an analysis of multiple factors to improve current decision-making processes and the establishment of new processes to address diseases;
Treatment, through the proposal of new methods, techniques and tools to improve patient's adherence to the prescribed treatment to attain maximum efficacy, and the analysis of medicine interactions in patients with multiple diseases;
Monitoring, focused on the acquisition and processing of physiological signals, both unidimensional and multidimensional, in order to assess the status and pathophysiological evolution of the patient.
Additional information
Website: https://citius.usc.es/
Twitter: https://twitter.com/citiususc/
Contact: www.citius.usc.es/contacto